About Cyro
Hey! Welcome to the Downward Facing Blog.
I'm Cyrièle, I'm 35, I'm a yoga teacher living in East London, UK. I've created this space to share about my yoga practice, on and off the mat. A lot of my friends were somehow interested in yoga and were contacting me to ask questions about their practice, where to go or how to start. I thought that sharing my answers on a blog could benefit more people.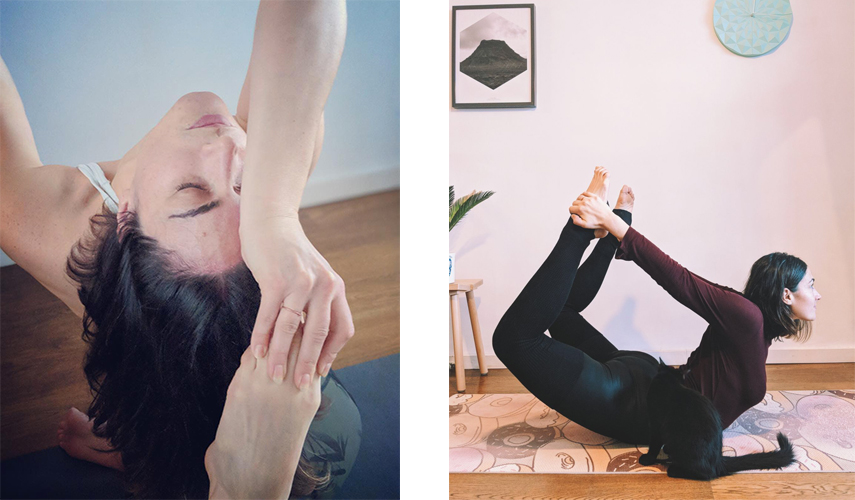 I grew up in Nice (south of France) and I've been lucky enough to spend my childhood and teens swimming, sailing or skiing. I moved to Paris when I turned 21 to study and I kind of lost sight of the importance of practicing a physical activity regularly. It was mainly due to the weather and the fact that everything is expensive in Paris (I didn't know about London yet...). When I started working (I design and produce digital and physical experiences) and earn some money, I finally went back to the gym.
In 2013 I moved to London. Two years later I discovered yoga - formerly because of a knee injury that prevented me from practicing sports I liked - and I literally fell in love with this practice, because of how it makes me feel in my body and my mind.
I did my Ashtanga Vinyasa flow teacher training in Sampoorna yoga, India, and my 50h Rocket teacher training with David Kyle. This year, I attended another training with Sampoorna to teach Yin yoga, and I'm about to train with The Yoga People to learn more about Mandala yoga. I intend to create sequences that use learning from all those various styles of yoga. I'm currently teaching at MoreYoga and TripSpace in London as well as private classes. I'm always looking for opportunities to teach and share what I've learned so please feel free to reach out to me. Whether you want to start and you don't know how, you already have a strong practice and you want to go deeper, or you want to work on specific postures (hamstring stretches, backbends, hips openers, chest openers, twists…) - I can create bespoke classes that suits your body, mind and lifestyle.