Daniela Olds
Interviews
|
Tuesday 25th December 2018
I've met Daniela about 3 years ago when I just started attending yoga classes at Frame Shoreditch. I remember at first what I really liked about her classes was that they were both strong and graceful. I didn't suspect the impact of the most important aspect of it though. Daniela was one of the only teacher I practiced with who spent as much time teaching us the mental practice than the physical one. I was guided through postures as much as I was invited to think and reflect about how I felt and why I felt this way. That was a revolution for me! First time ever I was told it's okay to listen to your body rather than trying to control it no matter what. That we should celebrate how great it is and be kind with it, even if it didn't match our expectations today. It's scary to let go of that fake idea of perfection and Daniela manages to create a safe space in her classes. She would also share some nuggets of her life with us - her thought process, her discoveries, her pain sometimes. I remember thinking "God, that woman is fearless! So that's what it looks like to be strong, confident yet kind!". When she accepted to participate in this interview I was literally over the moon!
Hi Daniela, could you please tell us a few words about you, where you're from and where you're now?
Hey Cyrièle, thank you for having me, I am originally from Slovakia and I moved to London when I was 19. I live in between London and Austin.
How and when did you discover yoga?
It was little bit of a sad story, I first started practicing when my mother died some 15 years ago, to somehow deal and heal the emotional turmoil that comes with grief when loosing a loved one. I was working in a market research and the yoga was one of its perks, I was not keen at first, as it was really slow and I was more of a gym bunny, but it started resonating more and more once I got the grasp of its benefits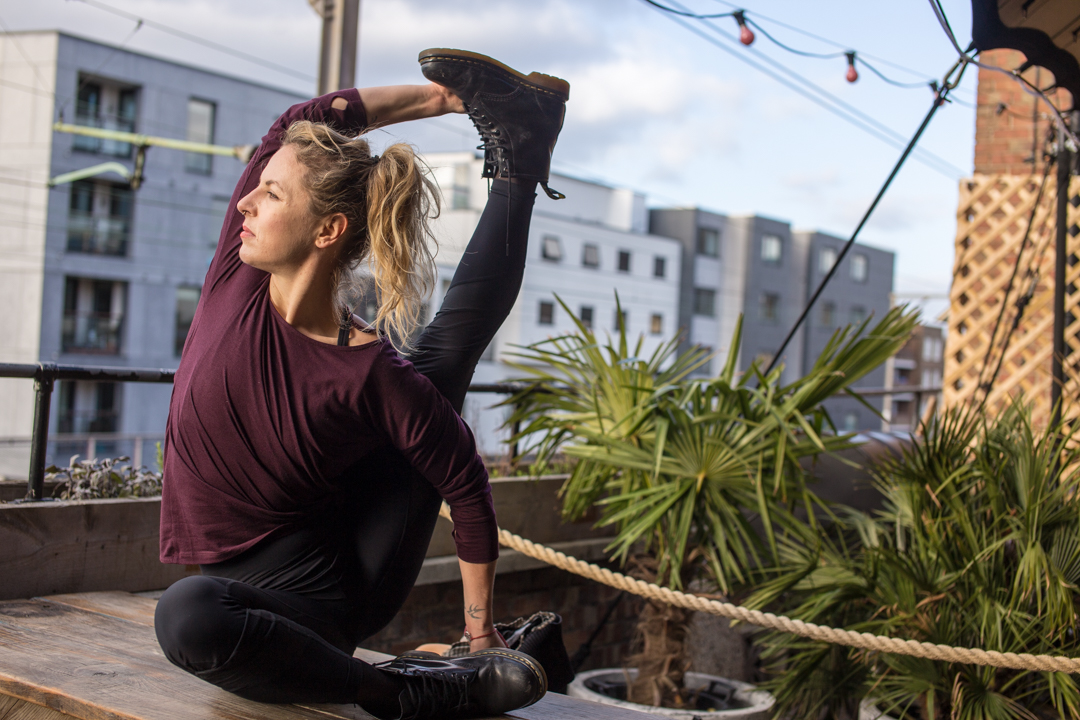 How and when did you realise you wanted to teach yoga?
I comprehended taking a teacher training course for quite some time, but I was little shy and really dreaded the idea of speaking in front of people. Whilst I worked in another advertising company I was really bored, sitting there day by day, I realised life was slipping past and I was wasting my time. After I broke up with an ex-boyfriend I took a leap of faith and the rest as they say, is history
Where did you train? What type of yoga did you learn to teach?
I was not sure where to start, at the beginning of 2012 and when I googled Teacher trainings, I was aiming for Ashtanga, so I emailed The yoga people, and they offered me Rocket, which was really hard at first. After that I went in deep and immediately took Ashtanga/Vinyasa, topped up with few Yin trainings later on. So I teach all of these and often mix them up, Yin Yang session in my favourite for self practise.
For how long have you been teaching yoga?
For six years.
Where do you teach?
At the moment I aim to mostly cover classes here and there, due to my current life in between US and UK. I was lucky enough to get back to my regular classes in East London: I hold regular classes in Tripspace, Frame, Refinery and LEVELSIX Peckham. Super grateful for that.
Yoga tells us to live in the present, but nonetheless… any forthcoming exciting project you want to share with us?
The yoga community here is unlike anywhere else, a little competitive but also one where people help each other. And I love that over here in London, there is so much variety, so I have some nice collaborations with my yogi and musician friends who play singing bowls, gongs and handpans, as well as workshops, women circles, exchanges along with tarot readings
Really excited to be on board with the coolest Yoga festival - Soul Circus - I am helping them recruiting great authentic teachers for the 2019 line up. It will be a blast! In 2017 I got the privilege to headline alongside DJ MAXI JAZZ from Faithless and that was a huge career moment, the friendly energy was mesmerising and so I can not wait to re-embrace and be part of those lovely vibes again.
Really looking forward to my two yoga retreats "Gypsy Soul escapes" next year. Thailand in March will combine Tarot, Astrology and Yoga. I also have dates cooking for Goa around November. I am currently finishing my Diploma study past life regression, so really keen to get started offering this as part of my package. It has really opened up my mind, my heart and my soul.
How would you describe your classes? What type(s) of yoga do you teach?
My classes are a mix of powerful asana, with the strong link to breath and alignment, with a hint of philosophy and spirituality. I embrace freedom of yoga and try to invite and inspire practitioners to be playful, creative, it is important for me that they enjoy their time on the mat in order to find the stillness.
I try and switch things around to offer variety, Rocket is always the basic structure of my sequencing, but essentially I prefer creative flow, inspired by Rocket, Ashtanga Vinyasa and Dharma - its all yoga after all. I love to add and some really slow flow, since I started teaching yin 4 years ago I slowed down a lot and this had made space for more gentle and spiritual practise. Little humour and sarcasm goes a long way too…
Since I took up Reiki, and Past life regression, it is important for me to strongly focus on energy, giving and receiving as well as protecting our own energetic vibrations, bringing that into the teaching of yoga.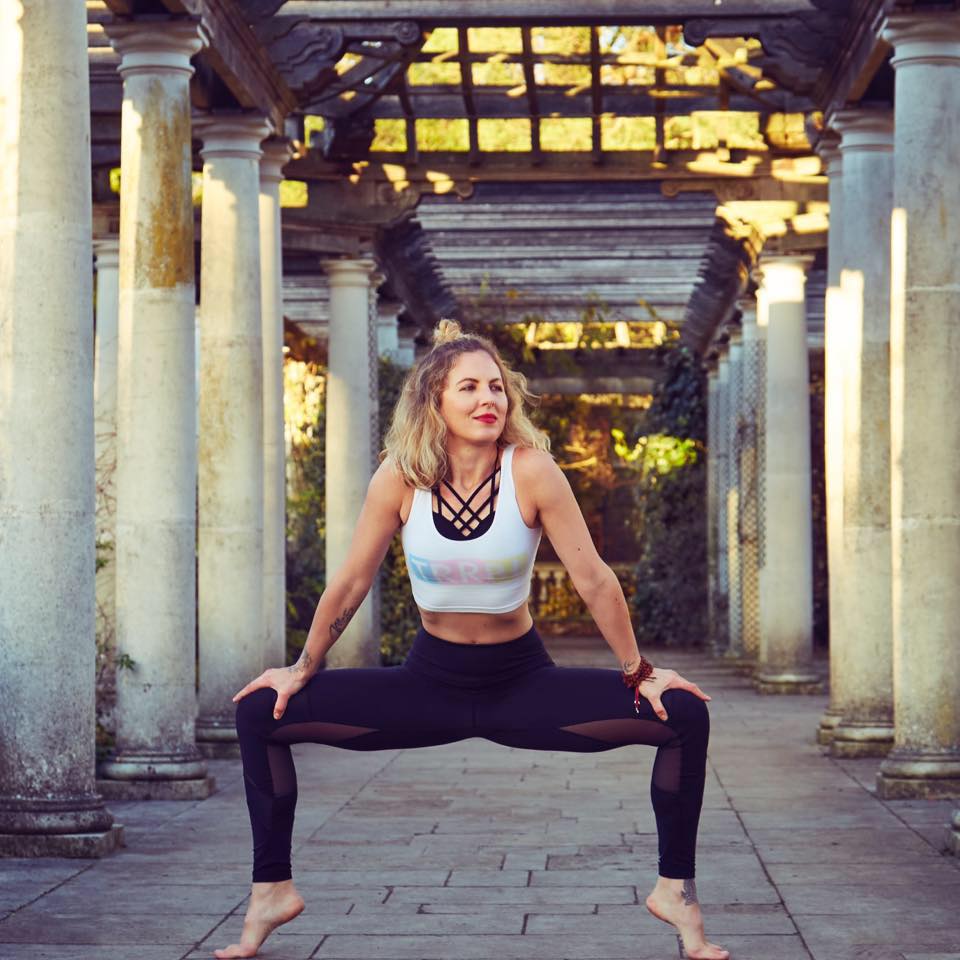 What influences you?
Freedom, Travelling, Music, reading, Tarot, Astrology, Energy, Kindness, Love… spirituality in essence.
What is your spirit animal?
Lioness.
What's your favourite mantra?
"Gayatri Mantra" Its prayer of praise that awakens the vital energies and gives liberation and deliverance from ignorance. It opens up your heart, when both our minds and our hearts open, we open ourselves up for new possibilities.
What's your own yoga routine?
I meditate every day, mostly self practice yin and slow flow, it also involves writing intentions, mindfulness and pulling a tarot of the day. I love to dab in acro when I find spare time to embrace my inner child, If I have an opportunity to play with a strong base that is able to hold me and not drop me.
How do you practice yoga off the mat?
By trying to be kind, open minded and less judgemental, by connecting to like minded souls, by loving, by trusting, by giving hugs, by exchanging and raising energy, by simply just trying to be being a good person.
What's the best advice anyone ever gave you in a yoga class and how did it impact your practice on and off the mat?
Follow your intuition and take it day by day (meaning don't go there if it does not feel good for your body). Meaning it transcends into the daily life, by trying to stay in a moment, by being present, appreciating the small acts of kindness and at the same time not overprojecting worries, obstacles and overthinking into habits and pattern. Learning how to accept and how to let go, how to find peace and really appreciate stillness. Day by day.
Do you have any advice for a wannabe yogi(ni) who wishes to try yoga but doesn't know where to start?
Book yourself to a beginners course and try not to compare yourself to anyone in the room. Avoid places with a mirror - it's easily distracting. One more thing - a quality yoga mat makes a whole lot of difference. Be patient. It's a personal journey and not everyone is the same, we are all different bodies, different muscles & shapes, different mindsets, different needs, we are all so different from one another and we are all looking for something, and there is something in there for everyone.
---
Find Daniela online